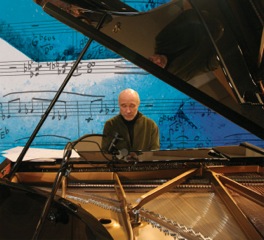 By Marcia E. Gawecki
Remember the old Blood, Sweat & Tears favorites, "God Bless the Child," and "Sometimes in Winter?"
That was the genius of Dick Halligan, composer and musician, who lives part time in Idyllwild and Italy.
Dick also arranged  "Variations on a Theme" by Erik Satie, for which he received a Grammy nomination. The rock/jazz band, Blood, Sweat & Tears dominated the Billboard charts in the early 1970s and won the Grammy's Album of the Year in 1970, over the Beatles' Abbey Road.
Dick also wrote musical scores for 15 films, including "The Owl and the Pussycat" from 1970, starring Barbara Streisand and George Segal, and "Fear City," from 1984, starring Tom Berenger and Melanie Griffith.
Next week, Dick will be taking his grand piano on the road with a June 21 concert at the Cornerstone Music Conservatory in Los Angeles.
"Dick Halligan: A Man and His Music" reveals his fascinating musical influences that lead to a rewarding musical life as well as personal challenges with focal dystonia, a debilitating nervous system disorder. Rod Menzies is directing the show. Tickets are $20 or only $15 if you order by June 14.
Several weeks ago, Dick held his solo debut in Idyllwild, but many missed it.
"I think he's a genius," exclaimed Jessica Schiffman, a friend of Dick's who is an Idyllwild artist who shows at the Bill Anson Gallery in Palm Springs.
Dick and other local writers would meet monthly to read their works out loud at Jessica's home. At that time, Dick talked about writing his memoirs. An unassuming guy, he had a lifetime of successes to write about, including time with Blood, Sweat & Tears, and composing jazz and classical music as well as film scores.
He told the group how his musical career started in high school when he got a band together. He was playing an accordian at the time.
Over the years, he learned to play the trombone, piano and flute. He was playing trombone when he first started with Blood, Sweat & Tears.
All of his experiences are written down in his memoir, that he completed within three months. Dick wrote it all out in longhand, while his wife typed it up.
Dick brought the finished manuscript to one of the writer's group meetings at Jessica's house. He read a few pages from the beginning.
"We all looked at each other in amazement," recalled one writer. "Dick doesn't mess around. When he says he's going to write a book, he does it."
Well, most people would think that a memoir written in three months is pushing it a bit. But for Dick Halligan, three months was all it took.
His memoir was well written with clarity and humor. When he gets it published, it will be a bestseller.
It also served as the basis for his solo show.
"All I'm missing now is some good pictures," Dick said. "I wished I would have kept some over the years."
Blood, Sweat & Tears played at the famed 1969 Woodstock concert.
"Yeah, I was there, and everyone talks about how great Woodstock was," Dick said. "But they must've been in the audience. From the stage, all I could see was black."
Dick, the musical genius and the regular guy will be revealed on stage. He spoke excitedly about it while attending the final musical, "Berlin to Broadway" about the life of composer Kurt Weill on June 20 at Idyllwild Arts Academy.
Dick said that he never thought much about Kurt Weill's work, but enjoyed his later tunes showcased in the 2-hour student show.
"Kurt Weill showed a lot of sensitivity and his love of America came out in his work," Dick said.
"Dick Halligan: A Man and His Music" will be held Thursday, June 21 at 7:30 p.m. at the Cornerstone Music Conservatory located at 12121 West Pico Boulevard (one door West of Bundy) in Los Angeles.
Cornerstone Music Conservatory is on the 2nd floor next to The Party Store. There is plenty of free parking in the lot. Tickets $20 (or just $15 with reservations by June 14th).
To order tickets, contact Jeannine Frank at Jeannine@FrankEntertainment.com or call (310) 476-6735 or (310) 666-9066.
Photo courtesy of Dick Halligan.
Copyright 2012 Idyllwild Me. All rights reserved.
the attachments to this post: