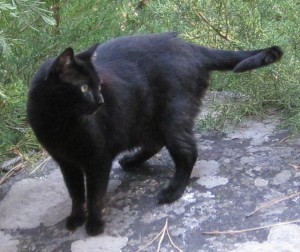 Peanut, my 8-year-old cat, has been missing for one week, since Thanksgiving Day.
She was last seen outside the family home at 53530 Marion View Drive (near McMahon) in Idyllwild.
She is all black with yellow eyes and weighs about 10 pounds. She has tiny paws. There was no collar or ID tags.
There were many visitors around town Thanksgiving weekend, and it's possible that Peanut may have "hitched" an unlikely ride home. On several occasions, Peanut  would jump into people's cars. Sometimes they'd drive off not knowing she was there until they heard her cries.
Or, Peanut may have gotten locked into a shed or garage. You know how curious cats can be!
If you live near Marion View Drive, Country Club, or McMahon, and saw Peanut around your home Thanksgiving weekend, please call me. It's possible that she may still be alive, and just trapped somewhere. It is my only hope! My heart is breaking!
Reward: $100 for Peanut's safe return
Please call Marcia Gawecki at (951) 265-6755
Thank you!
the attachments to this post: