January 23, 2011
By Marcia E. Gawecki
"Hill Street Blues" and "NCIS" star Joe Spano will also star in the final performance of "Eurydice," by the Idyllwild Arts Theater Department, on Sunday, Jan. 23 at 2 p.m. It's a correction to the earlier report (on Idyllwild Me blog post dated Jan. 20) that the understudies would take over that performance. Theirs was held on Saturday, Jan 22 at 2 p.m.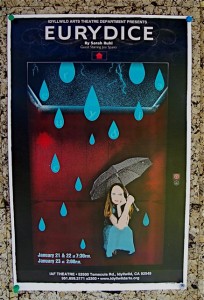 Today, at 2 p.m., will be the final performance of "Eurydice," Idyllwild Arts production of the Greek tragedy about Eurydice and Orpheus in the Underworld. Spano starred as Eurydice's father to packed houses on Friday and Saturday nights.
Milan, a senior Theater major, credits Spano for adding professionalism to the show. It is the first time this crew has worked alongside a well-known actor.
"His choices onstage has given everyone involved with the show a huge acting lesson," Milan said. "And him being in the show has absolutely effected the quality and professionalism of the show."
He said that Spano had also taught him to slow down and take his time with each scene.
Brooke, another senior who plays the lead, Eurydice, admitted to being timid around Spano at first.
"I had never worked with a professional actor before, let alone one as famous as Joe Spano," Brooke said. "But he treated me like an equal."
Both Brooke and Milan had not seen Spano during his "Hill Street Blues" hey days, but their aunts and uncles gave them an earfull.
"My aunt just loves Joe Spano, and thought he was terrific in 'Hill Street Blues," Brooke said.
Milan also researched the shows online.
Although the father role may have been missing in other versions of "Eurydice," Sarah Ruhl's take is different. She focuses more on the circle of life.
"The father is the second, if not first most important role in the play," said Milan, who has watched Spano rehearse for weeks. "Without the father, it would not be the same story. He goes through many obstacles, such as memory loss, but had the courage to let his daughter go."
The set of the play is also top notch with a rain shower encased in an elevator. It's the work of guest set designer Steve Hudson-Mairet, head of the Theater Department at Marquette University, and Todd Carpenter, the technical director at Idyllwild Arts (see "Help with Eurydice Set," Idyllwild Me post, dated Jan. 14).
The final performance of "Eurydice," starring Joe Spano as the father, Brooke as Eurydice, Juwan as Orpheus, Jake as the lord of the Underworld, and Liana (Joe Spano's daughter), as a stone, will be held today, Sunday, Jan. 23 at 2 p.m.
The show is free and open to the public. The IAF Theater is located inside the Bowman Building on the Idyllwild Arts Campus, located at the end of Tollgate. For more information, call (951) 659-2171 or visit www.idyllwildarts.org.
Copyright 2011 Idyllwild Me. All rights reserved.

Custom Search