April 16, 2010
By Marcia E. Gawecki
Last night, I almost met Mark Knopfler.
Everyone knows he's the lead singer and guitarist who started the 70s British rock band, Dire Straits. Anyway, I was within arm's reach of him backstage on Thursday, April 15th at Pechanga Casino in Temecula starting on his "Get Lucky" World Tour.
Jeffrey Taylor, my boyfriend who runs Green Cafe in Idyllwild, was working on the assistant stage manager's computer. Jeff had just told me, "Mark Knopfler's walking around here somewhere. You might see him." Then I got  a call, and walked to a back room for more privacy. Well, it was about five minutes into the conversation when Knopfler came in.
He was listening to someone his cell phone too–probably the Queen congratulating him–and I was talking to my Mom about my cat that was recovering from a fight.
No kidding, Knopfler was within arm's reach. He wasn't too tall, with pale skin and light blue eyes that could look right through you. I said "Good-bye" to my Mom and "Hi," to him as I passed him in the doorway. He didn't smile, and looked down to concentrate more on what the other person was saying. He smiled only twice onstage that night–after his encores.
Just then, a guitarist from his band walked back there listening to his cell phone too. Perhaps they were wondering if I was an overzealous fan who bolted past the guard door ready to meet Mark. They both followed me back to the dressing room where Jeff was still working on computers.
"Is that Mark Knopfler?" I whispered to Pete, the assistant stage manager, pointing outside.
"No," Pete said,without looking up or out the door. After all, he was busy, and had to protect Mark Knopfler from fans who wanted an autograph or to do something crazy (so they could write about it later on their blog site!)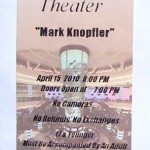 Other fans did silly things that night too. These were grown men, with $50 haircuts and suede jackets, who probably grew up listening to Dire Straits on their headphones. There were thousands of them in the audience, all eager to hear the legend. One elderly fan in particular, walked along the stage during one of Mark's songs, smiling like a lunatic, then offered a high "peace" sign. Another fan walked along the stage later that night too.  Unfazed, Mark just kept on playing his electric guitar. People just wanted to get close to him, close as they could get to greatness.
Jeremy Norton, the former web site designer for Idyllwild Arts, and I sat about 10 rows back during the show. The seats, a gift from Paul, the stage manager, were about $500 each. Others closer to the stage were about $1,000, Jeff said.
The guy seated next to me came all the way from Tijuana, about 1 1/2 hours from Temecula. He was wearing a long-sleeved black "Get Lucky Tour" T-shirt, and beaming. He had been to Las Vegas the week before, and wanted tickets, but was told that the show was "sold out." Then someone turned in tickets tonight, and he got to buy one.
"This guy rarely gives concerts," he said like a lifelong fan. "I see him a lot on TV doing benefit concerts with famous people, but he never goes on tour himself. I'm so lucky to be here. He's the master."
The guy next to him sang along to most of the songs. It was an entire arena of grown men who nodded to the music and couldn't stop smiling. When Mark sang, "Romeo and Juliet," he was singing for all those "lovesick Romeos" out there waiting in the shadows for their Juliets with their guitars.
"All I can do is love you … When I saw you there, my heart exploded … You and me, babe, how about it?" Mark Knopfler sang the words in his telltale whiskey voice.
After nearly every song, his fans would shout out requests. Some even interrupted him when he was trying to talk.
"Brothers in Arms!" "Walk of Life!" "Money for Nothing!" They commanded.
"They're coming in fast and furious now," he said, good-naturedly. "We'll try and accommodate you."
He sang for two hours with new hits and old favorites, including "Sultans of Swing," and "So Far Away from You."  Mark Knopfler brought everyone back to a time when Dire Straits was at its peak and life was much simpler.
Even Pieta Brown, the young singer who sounded like Chrissie Hynde, who opened for this "Get Lucky" tour, was a Dire Straits fan.
"I had this old cassette tape of Dire Straits that belonged to my stepmother," she said onstage. "I played it so much that I wore it out. I've never done that before, actually wore out a tape. And now, here I am opening up for Mark's show."
"Sometimes, you just get lucky," Mark sang later.
"Why did Mark play at Pechanga, and not at an arena in San Diego?" Jeff asked Pete, the assistant stage manager, who calls him "Mad Jeff." (For privacy, we omitted his last name).
"Mark likes to play smaller venues where it's more intimate," Pete said. "It's not about the money." He was buying Mark a shirt at Pechanga's pro golf shop. The wind was blowing wildly outside on the golf course. Pete said that he and Mark play tennis while on the road.
"He's the only musician that I know that gets 70 million hits online with one record," Jeff said later. "He's great on electric guitar. He's like the Tom Petty of Europe."
He's also got quite a collection of guitars. Red and white electric ones, regular ones, large and small ones. Fenders and Gibson Les Paul's. He's got about 70 in all, and many of them were onstage that night. After each song, a stagehand would come out with another one, and Mark would switch. During one song, he changed guitars twice.
Not only was Mark Knopfler changing guitars, but all his band mates were too. Even the flute player played guitar. It was quite an arsenal of instruments, but somehow they managed to keep it all straight.
After three encores, with all of his "mates" standing next to him onstage, including the drummer from Dire Straits, Mark Knopfler finally smiled.
"I just love this town," he said, and blew a kiss to his fans, mostly grown men who were on their feet more than in their seats. After the final encore, Mark Knopfler turned his back to the audience and pointed his electric guitar high in the air. He was beaming like a guy who likes to perform live.
And to think, a few short hours earlier, I was backstage annoying him.

For more information on Mark Knopfler's "Get Lucky" World Tour, visit his official web site, www.markknopfler.com.
Copyright 2010 Idyllwild Me. All rights reserved.
Custom Search