Two divas gave their final piano performance at Idyllwild Arts Academy yesterday evening, April 12, amongst a backdrop of a late snow. The cherry blossoms, lilacs and daffodils were in full bloom, and by day's end, there was snow all over the ground.
Those students, faculty and friends who braved the cold and attended the senior recital were treated to a warm and entertaining evening showcasing the talents of Georgina Bertheau and IeSeul Yoen.
Bertheau, who appeared in a long, silky, sleeveless burgundy gown and strappy silver pumps, began her five-song lineup with "Prelude and Fugue in D Major," from "The Well Tempered Klavier," Book II, by Johan Sebastian Bach.
For those who know, "The Well Tempered Klavier" was created by Bach in two books of keyboard preludes and fugues in all 24 major and minor keys, starting with C major, then C minor, then C-sharp major, and so on. The rising chromatic pattern continues until every key has been represented, finishing with a B-minor fugue.
This piece was a nice warm-up for Bertheau.
Her next piece, "Sonata in G Major, Op. 31, No. 1" by Ludwig von Beethoven, was moody, and intense and the dark sound filled the room. At times, it appeared that Bertheau was angry because she wore a serious expression on her face, as she worked her way through this complex piece.
"Piano Sonata No. 1" by Argentine composer Alberto Ginastera, is not so unusual a selection, giving the fact that Bertheau comes from Costa Rica and Ginastera is considered one of the most important Latin American classical composers.
Like the others, this song was moody and complex, but Bertheau played it with more vitality, showcasing her talents across the keyboard, as the audience enjoyed it.
By the time she returned for her fourth piece, "Etude in G-flat, Op. 25, No. 9," "Butterfly" by Frederic Chopin, Bertheau had her long hair tied back in a ponytail and her cheeks and chest were flushed crimson. Early on in the piece, she showed real emotion in her face, as she presented this piece known for its staccato and macchiato alterations (resembling the erratic flight of a butterfly.)
Her final piece, "Ballade No. 1 in G minor, Op. 23," also by Chopin, was a perfect ending to a senior recital.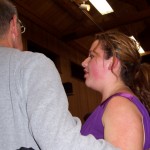 After Bertheau took her final bows, her boyfriend, Connor Merritt, gave her a bouquet of red roses.
Like her name suggests, IeSeul Yoen is a native of Seoul, South Korea. She's attended Idyllwild Arts for four years, and plans to go to the prestigious Manhattan School of Music in the fall.
Yoen wore a strapless, long black gown with a black jacket. Braided in her hair was a sparkling pin.
Just like Bertheau, Yoen began her recital with "Prelude and Fugue in F Minor," from "The Well-Tempered Klavier. However, Yoen's book was created by Bach in 1722, 22 years before the one played by Bertheau. At first, Yoen was concentrating with her head down, and her eyes closed.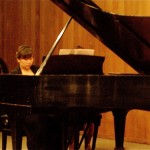 By the time Yoen played her second selection, "Sonata in D Major, Op. 10, No. 3," by Beethoven, she was relaxed and confident, leaning back on the bench as she played. It was an intense and long piece, but Yoen played it with a delicate touch tempered by dramatic pauses.
Afterwards, Doug Ashcraft, her piano teacher at Idyllwild Arts, who also heads the Music department, clapped the loudest and longest. Perhaps he knew of the challenges she faced along the way?
For her third piece, "Alternating Current, Second Movement," by the American composer Kevin Puts, Yoen relied on sheet music, and the help of the other diva, Bertheau, as page turner, who had changed into a black, knee-length dress.
According to Puts' web site, the title refers to the alternating meter and flowing nature of the piece.
"It's a slow dance in which contrasts descending triads with Beethovian pedal points," Puts said. "My aim was a sense of quiet nobility."
As an accomplished pianist, Puts knew how to entertain an audience with this piece, and Yoen played it beautifully.
For her fourth and final piece of her high school year, Yoen played "Polonaise in F Sharp Minor, Op. 44," by Chopin. It was a jazzy, showoff piece, that was dramatic from its introduction. At times, it went round and round, sounding like carousel music. Yoen allowed herself a few confident head turns and smiles throughout the piece, clearly enjoying it.
Afterwards, by the time, she returned for her second bow, everyone was on their feet, hooting and hollering in appreciation. Camille Liu ran up and gave Yoen a colorful bouquet of paper flowers created by her good friend, A-Tao Liu.
Although "diva" is generally attributed to a celebrated female singer, it is also given to women with outstanding musical talent. Such is the case of the two divas, Yoen and Bertheau, in their final performance at Idyllwild Arts. Brava!

Custom Search
the attachments to this post: