By Marcia E. Gawecki
For the first time in 24 years, (Frank) Shepard Fairey, a now famous graphic designer / street artist, returned to his old high school, Idyllwild Arts Academy.
During an hour-long lecture on Feb. 10, Shepard showed slides and told how he raised hell, worked hard, believed in causes, got arrested, got lucky and gained some fame from his 2008 Barak Obama poster and 2010 documentary, "Exit Through the Gift Shop."
Students, faculty and Idyllwild town folks packed the IAF Theatre and mobbed him for photos at the art show afterwards. It was his "Welcome Back, Kotter" moment.
"This is the best thing that's happened to visual artists," said Kevin, a senior visual artist from Korea, as he stood in front of Shepard Fairey's posters at the show. His friend took his picture with Shepard Fairey, which likely was later posted on Facebook.
"I've got one of his stickers," beamed Bella, a senior fashion design major from China. "And it's signed!"
Back in 1987, when Shepard Fairey attended his senior year at Idyllwild Arts Academy, he was "stagnating" (according to his parents) with interests only in punk rock and skateboarding. When he got kicked out of North Carolina School of the Arts during the summer, he came to Idyllwild Arts.
"When I met one of my art teachers, David Amico, he was wearing biker boots and a Ramones (punk rock) T-shirt," Shepard said during his slide presentation/lecture. "For the first time, there was no adversarial relationship with my teachers. They treated me like one of their peers."
Ellenie, his former 2D design teacher, said that Shepard was an average art student.
"But being average at Idyllwild Arts means that you're among the top three percent of young artists in the country," she clarified. "He also had to be reminded about the rules a couple of times."
That year, he studied black-and-white photography, but then used color photography to make fake California Driver's Licenses with his friends. Later, he used that same fake ID to get into LA clubs to post his "Obey" posters.
Shepard also told how he jammed the color printer at Kinko's with a paperclip and printed off hundreds 11 x 17-inch posters in black and red, but only paid for six copies.
He's not saying that it was right, but it's what he had to do to as a struggling arts student to get his message (of questioning authority) out to the masses.
A the Rhode Island School of Design, he remained active in the skateboard /punk rock culture. One day, he was showing a friend how to make stencils, using a newspaper photo of Andre the Giant. His friend refused thinking it ridiculous, but Shepard's interest in the wrestler took off. And so did the popularity of his art.
He stylized the image, and put it on buildings and walls around Providence. It made the local news.
"I realized that the only things occupying the public space were government signs and advertising," he said.
He filled that public space with his "Obey" campaign.
"But then I realized that scale was important," Shepard told the crowd. (After all, Andre was over 7 feet tall and weighed 525 pounds).
He saw an opportunity to paste over a large billboard featuring a local politician in full scale pointing his finger. The headline read: "He Never Stopped Caring About Providence."
The next day, Andre the Giant's face covered the politician's, who also had mob connections. The billboard 'makeover' made the news again, but Shepard had to apologize.
"It took him about four minutes to figure out who did it," Shepard said, shaking his head.
That incident didn't stop Shepard from promoting his "Obey" campaign all over U.S. cities and towns, and getting arrested 16 times along the way.
This wasn't your average street artist "tagging" for his own fame, but a serious conscious objector using his art to bring issues to light.
Some of them he showed during his slide presentation, including anti-war images featuring then-president George Bush with a Hitler moustache, and a young girl carrying a grenade in her hand. Other issues included the oppression of the Tibetan monks, air pollution, and water pollution. Yet, his anti-war slogans were most prominent.
"We spend a lot of money on the military in the U.S., rather than education," Shepard claimed.
He showed a poster of new parents proudly cradling a bomb. Another one featured a gas mask with bold text: "I don't want my taxes to pay for the new world order."
After showing the last slide of a giant tyrant boot ready to crush masses of people, he softened a bit.
"All I'm saying is that you can use your art to speak up," Shepard told the Idyllwild Arts students. "Few people have the courage to do the heavy lifting. Be brave, OK?"
He spoke not just to the visual artists, but to young musicians and writers as well.
"It doesn't have to be perfect," he said. "You could build music on your laptop or write a blog."
He's doing what we've always told our students to do, said Ellenie. Take something that you believe in and show it through your art.
Although Shepard became most famous for his 2008 Barak Obama poster, Shepard didn't spend much time on it. He said he was impressed with then-candidate Obama's speech at the Democratic National Convention and decided to create a poster. He was lucky that it was sanctioned by the Obama campaign by a former skateboard friend.
"That poster rose to the national spotlight like none other," he said.
Early in Obama's campaign, Shepard was identified as the artist who created the iconic poster. When asked if he was mad that others were taking his image and profiting from it, Shepard said, "no."
Since then, Shepard has become disappointed with some of President Obama's politics, but said that he's the best candidate around.
Shepard's work has appeared in galleries and museums around the country. He illustrated Time magazine numerous times.
Even with all of his success, Shepard was "at home" among the artists at Idyllwild Arts.
"I saw him sitting in the cafeteria eating lunch," exclaimed Peter. "This was my big moment! So I sat down next to him and told him what a big fan I was."
He allowed Sidney, a photography major, five minutes before his lecture to take several portraits of him.
"He was so nice and casual," Sidney said. "You can see how natural he is in the pictures."
View the pictures that Sidney took on her blog, www.sidneymorganblog.com.
Eric, from Mexico, spoke to him about filming him in the future.
"I've been saving up for my own video camera, and told him that if he needed an extra guy to shoot, I could do it," Eric said.
Shepard gave Eric his contact information, and since he was hanging around, he was interviewed by Gail Wesson for her Feb. 11 Press-Enterprise article.
When asked if he had seen Shepard Fairey's lecture before coming to the alumni show, Hubert Halkin of Cafe Aroma replied, "Of course I did! I saw it in the comfort of my own home–on UStream!"
Shepard Fairey's posters, including the 2008 Obama poster, remains on display at the Parks Exhibition Center on the Idyllwild Arts campus. Call (951) 659-2171, ext. 2251. To hear his one-hour lecture in its entirety, visit www.idyllwildarts.org, and click on UStream, or visit the latest issue of the Idyllwild Herald at www.idyllwildherald.com.  For Shepard Fairey's art, visit www.obeygiantart.com.
Copyright 2012 Idyllwild Me. All rights reserved.
Published on: Feb 16, 2012 @ 12:39

the attachments to this post: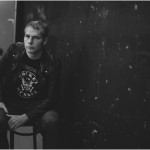 Shepard Fairey, an 1988 Idyllwild Arts grad. Photo courtesy Sidney Morgan.